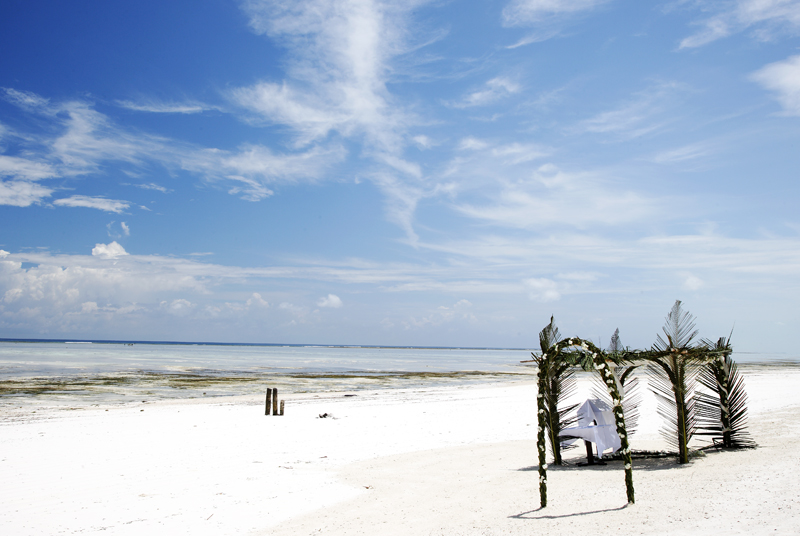 The Seychelles archipelago is an exotic collection of no fewer than 115 granite and coral islands set in the aquamarine waters of the Indian Ocean.
Each island is different; twelve (12) of them offer accommodation while the rest are open to day trips. Some islands are granite with massive boulders that roll right down on to the beach, with expanses of beach, rainbows of flowers, cool forests and spectacular bird life.
Seychelles is however one of the smallest nations in the works and boasts two World Heritage Sites – the Aldabra Atoll and the Valée de Mai. The Valée de Mai is a primeval forest, the best-known symbol of the most rare birds in the world, the elusive Black Parrot. Visitors can enjoy plenty of nature walks, nature trails, mountain treks, and can visit museums and see fascinating Creole houses and monuments.
The Seychelles' largest island and the getaway for visitors, Mahé covers 150 sq km of lush vegetation and tropical forest and has 70 glorious powder-soft beaches. La Digue island features vanilla plantations, paradise flycatchers and ox-cart transportation while Denis Island has turtles.
Climate
Seychelles' enviable climate is always warm and without extremes. In this tropical haven the temperature seldom drops below 24°C or rises above 32°C. All but the remotest southern islands lie comfortably outside the cyclone belt making Seychelles' a year round destination for sun worshippers and beach lovers.
Between the months of October and March, the sea is generally calm and the weather warm and humid. In January and February the islands receive their life-giving rains, rejuvenating the rivers and streams and teasing the vibrant foliage into rainbows of colour. The months between May and September bring drier, cooler weather, and livelier seas – particularly on South Eastern coasts.
Language
Creole (a lilting, French-based lingo), English and French are the three main languages but many Seychellois also speak fluent Italian or German.
People
Traditionally, the islands have attracted a broad diversity of peoples from the four corners of the earth that has included freed slaves, European settlers, political exiles, adventurers, traders of Arab and Persian origin as well as Chinese and Indians.
Practically every nation on earth has been represented in this melting pot of cultures, each one contributing its special influence to today's vibrant yet tranquil society.
Culture
Seychelles' architecture is at once distinctive in its style and practical in its design. It clearly illustrates the influences of its colonial past and combines these with practical considerations such as steep roofs to shoot the rain, wide verandas to make the most of a climate that encourages outdoor living as well as features to make the most of the island breezes.
Traditionally, Seychellois houses featured an outside kitchen so that the racy aromas of the cuisine did not invade the living space. Originally, many houses would have been roofed with thatch from the coconut plantations but, for practical and novelty reasons, these gave way to corrugated iron sheeting when that became available.
Seychelles has a vibrant art scene for a small country. It encompasses painters, sculptors, writers and poets, artisans of many types, musicians and dancers. Painters and local sculptors have taken inspiration from the richness of Seychelles' natural beauty to produce a wide range of works. Local writers and poets also use the magnificent backdrop of Seychelles as the inspiration for historical accounts, fascinating works documenting the social history of the islands and its people and collections of short stories and poems that evoke the passions of island living.
Throughout Seychelles, there are many artisans producing works of art that are as varied and diverse as their surrounds and which include stained glass, products made from coconut shell, husk, seashells and corals, clothing, gold, silver and other forms of jewellery, recycled materials, fibres, bamboo, metal and pottery.
Music and dance have always played a prominent role in Seychelles culture and in all types of local festivities. Rooted in African, Malagasy and European cultures, music is played to the accompaniment of drums such as the Tambour and Tam-Tam and simple string instruments. The violin and guitar are relatively recent foreign imports, which play a prominent role in today's music.
The lively Sega dance with its elegant hip-swaying and shuffling of the feet is still popular as is the traditional Moutya, a mysterious, erotic dance dating back to the days of slavery when it was often used as an outlet for strong emotions and as a way of expressing discontent.
Kamntole is a foreign dance import, accompanied by banjos, accordion, violin and triangle and reminiscent of a Scottish reel while the Contredance with its intricate movements has its origins in the French court and is danced to the strains of banjo, triangle and to the instructions of the 'Komandan' or Commander who calls the sets.
Several groups of traditional dancers perform at local functions as do modern groups playing jazz, reggae, country & western, hip-hop, ballads and classic rock. Several choirs exist singing traditional hymns and promoting choral music with a repertoire that includes sacred, secular, gospel and folk pieces.
Echoing the grand assortment of people who populate Seychelles, Creole cuisine features the delicacy and nuances of French cooking, the exoticism of Indian dishes and the piquant flavours of the Orient.
Grilled fish or octopus basted with a sauce of crushed chillies, ginger and garlic are national favourites as are a variety of delicious curries lovingly prepared with coconut milk and innovative chatinis made from local fruits such as papaya and golden apple. As may be expected, seafood dishes feature predominantly in the local cuisine, appearing alongside the national staple, rice.
Some restaurants specialize in Indian, Chinese or Italian food and many feature popular international and specialist dishes.
Over the years Seychelles' folklore has traditionally, revolved around certain familiar characters such as 'Soungula', renowned for his cleverness and resourcefulness in solving life's problems as well as other colourful personalities such as Bro Zako, Kader, Tizan and Kousoupa.
Certain popular fables and stories still do the rounds, dating back to those days before television when there was little in the way of popular entertainment and these remain mediums for providing an audience with insights as to the correct way to live, island-style.
Seychelles History
Seychelles, comparatively a young nation, can trace its first settlement back to 1770 when the islands were first settled by the French, leading a small party of whites, Indians and Africans. The islands remained in French hands until the defeat of Napoleon at Waterloo, evolving from humble beginnings to attain a population of 3,500 by the time Seychelles was ceded to Britain under the treaty of Paris in 1814.
During this period Seychelles came to know the enlightened policies of administrators such as Pierre Poivre, the brilliant politicking of Governor Queau de Quinssy and, of course, the terrible repercussions of the French Revolution.
Under the British, Seychelles achieved a population of some 7,000 by the year 1825. Important estates were established producing coconut, food crops, cotton and sugar cane. Seychelles also saw the establishment of Victoria as her capital, the exile of numerous and colorful troublemakers from the Empire, the devastation caused by the famous Avalanche of 1862 and the economic repercussions of the abolition of slavery.
Seychelles achieved independence from Britain in 1976 and became a republic within the commonwealth. Following a period of single party rule by the government of Mr. France Albert René, on December 4, 1991, President René announced a return to the multiparty system of government, 1993 saw the first multiparty presidential and legislative elections held under a new constitution in which President René was victorious. President René also won the 1998 and 2003 elections before transferring the Presidency to James Alix Michel in June 2004.
Seychelles Attractions
Aride Island Nature Reserve
Aride Island, one of the finest jewels in the Indian Ocean, is also one of the world's most important Nature Reserves. Blessed with a wealth of natural treasures Aride has remained a wild and beautiful paradise. Aride is home to one million breeding seabirds of ten species, endemic birds such as Magpie Robins, endemic plants like wrights Gardenia, beaches and rich marine life. No vessels other than those of the reserve are allowed to land on Aride Island. As such visitors will have to disembark from their vessel and board the islands' boat for transfer onto the island.
Bel Air Cemetry
The Bel Air Cemetery, undoubtedly the oldest historic site in Seychelles, was the first official burial ground to be opened on Mahé Island soon after the establishment of the French settlement in the late 18th century. Important historical milestones, the cemetery's tombs, vaults and shrines contain the remains of some of the islands' most famous personalities such as corsair Jean-Francois Hodoul and the 9ft giant Charles Dorothée Savy, poisoned at the age of 14 by neighbours fearful of his height. Another character whose remains lie within the cemetery is the mysterious Pierre-Louis Poiret, claimed by some to be the son of Louis XVI who fled the French Revolution and took refuge in Seychelles. It was the final resting place of a son in law of Queau de Quincy , a magistrate, an acting civil commissioner and a district magistrate who lie among other recently rediscovered graves once covered by the great landslide 1862
Cathedral of Our Lady of Immaculate Conception in Mahé Island
This imposing Cathedral is the Mother Church of the Catholic Diocese in Seychelles. Constructed on the site where Father Leon of Avanchers built the first vault in March 1851 that was devoted to the Virgin of the Immaculate Conception, the Cathedral is one of the first churches in Seychelles. The first and only Seychellois Bishop, Felix Paul is buried inside the cathedral in a tomb built in the flooring. The tomb is not visible but a special plaque marks its location.
Kreole Institute in Mahé Island
The Kreole Institute, a large colonial house built in the French style and reflects the opulence of the grand property owners of that era. It forms part of the Patrimwann and was established to promote Creole culture and tradition. It was designed by a German architect, Leit, and constructed in 1920 by France Jumeau, a plantation owner at that time. Its former name was Maison St. Joseph. Activities include formal traditional balls, traditional French song recitals, cultural exhibitions, and language and literature workshops. It also houses a documentation centre.
Kreolfleurage Parfums in Mahé Island
Kreolfleurage, the only perfume manufacturer in the Indian Ocean, is run by Dag Wester and Dagmar Ehlert who founded the laboratory in 1988. The unique range of products include perfumes, perfumed lotions and soap produced on a base of essential oils from the region as well as from all over the world. Located near the beach at North East Point their small laboratory has become a popular tourist attraction on the island of Mahé.
Black Pearl (Seychelles) Ltd. in Praslin Island
At Black Pearl experience three attractions in one: The Giant Clam Farm, Pearl Farm and the Black Pearl shop. Enjoy the unique chance to encounter over forty thousand giant clams and to learn about their feeding and reproduction habitats at the Black Pearl Ocean Farm. Black pearls are also cultured here in the first and only pearl farm in the Indian Ocean region. Situated next to the farm is the Black Pearl Shop, selling a selection of beautiful high-class jewellery and other exotic creations made from locally cultivated pearls from the Seychelles 'Black Lip Oyster'. You can choose from the array of matching rings, earrings, pendants or strands. Set in yellow or white 18-carat gold and with argyle diamonds, many of which are of a "One Off" design.
Vallée de Mai (a UNESCO World Heritage Site)
So remarkable that it was once believed to be the original site of the Garden of Eden, this hauntingly beautiful primeval forest is home to some 6000 Coco-de-mer trees, considered to be among the botanical wonders of the world. The Vallée boasts six endemic palm species as well as many other indigenous trees and is also the last habitat of the endangered Black Parrot.
Curieuse Marine National Park
Most visitors disembark at Baie Laraie to the sight of multitudes of giant hump head parrotfish and giant tortoises lazing near the rangers' headquarters. The trail from Baie Laraie to Anse José passes through thick mangrove forest and is one of the most breathtaking sites on the island. On the way can be found the ruins of the leper colony, now well blended into the landscape. Hues of red and green colour Curieuse Island, the result of the bare red earth of the hillsides intermingling with the unique green flora of an island peppered with coco-de-mer trees, one of the iconic symbols of Seychelles. The Doctor's House at Anse José, a wonder of Creole colonial architecture, has since been turned into a fascinating museum on whose beach sea turtles still arrive to lay their eggs. A dive at Coral Garden or Pointe Rouge is a MUST as is a snorkeling trip to St. Pierre.
Dauban Mausoleum
Built in a serene and secluded spot of Silhouette amid luxuriant vegetation of mainly coconut trees. This imposing architecture, a special landmark of the island ranks high among the work of its kind in Seychelles. One of its most distinct features is a set of six proportionally massive columns which are aligned on the façade and on part of the lateral sides. Besides its appealing structure, the mausoleum gives an insight into a series of social and economic aspects highlighting both the status of the Dauban family and the level of economic prosperity of the island at that time.
Ste. Anne Marine National Park
Roughly 20 minutes from Mahé by slow boat, this Marine National Park has one of the largest areas of sea grass of the granitic islands where green and hawksbill turtles are often found. Bottlenose Dolphins also frequent the park. Ste. Anne Island was the location of Seychelles' first settlement in 1770, away from the once crocodile-infested swamps on Mahé. Once a whaling station, during the Second World War Ste. Anne was also a base for the Royal Marines defending Victoria Harbor. It is alleged that there is a rich treasure buried on nearby Moyenne Island while Round Island was once a leper colony.
Ile Cocos Marine National Park
Ile Cocos Marine National Park is set around 3 small islets in shallow turquoise sea fringed by large expanses of coral reefs that provide the most breathtaking snorkeling experience. Visits to the island can be organized with ground operators and taxi boats on Praslin and La Digue.
Seychelles Activities
Island Hopping
What sets Seychelles apart from so many other holiday destinations is its wide variety of islands, each one with its own particular geography, character and history. Whether you choose a day excursion to one of the many inner granitic islands, or an extended stay on one of our exotic island hideaways, Seychelles has something exceptional to offer. Whatever your choice, a regular network of air and sea transport operating out of the principal island of Mahé will cater for most itineraries. Ferry services, domestic flights and even helicopter transfers are also available on a daily basis to many of the islands.
Diving
With 115 islands scattered across the Indian Ocean, Seychelles offers diverse and impressive diving opportunities. The Inner Islands are remains of a submerged mountain range and rest on a shallow plateau with prolific marine life. Excellent PADI diving facilities are available to access a multitude of dive sites. The Outer Islands to the south of the archipelago are all coralline or sand cays and mainly uninhabited. They present the experienced diver with excellent opportunities to explore where few have gone before. Diving is possible all year round but is governed by an island's position and the prevailing winds. The best conditions for both the Inner and Outer Islands are in the calm periods, April and May, and October and November. This is when the water temperature can rise to 29ºC and offers excellent visibility.
Fishing
Seychelles has some of the richest fishing grounds in the world. The abundance of wahoo, sailfish, dorado, tuna, rainbow runner and trophies such as marlin, make for an unforgettable big-game fishing experience for both the seasoned and novice fisherman alike. International sport and recreational fishermen enthusiastically return each year to these waters that already boast world records for striped bonito, bonefish, giant guitarfish, bigeye trevally, bluefin trevally, giant trevally, moustache grouper, humphead maori wrasse and dogtooth tuna. Traditional bottom-fishing produces a dazzling array of grouper, job fish, snappers and emperors, rewarding you with some of the finest tasting fish on offer anywhere in the world.
Seychelles has become the epicenter of salt-water fly-fishing and casting your fly lines on the magnificent shallow flats of the Outer Islands will afford you the chance of landing several energetic silver bonefish to challenge the record books. Blue-water fly-fishing is also becoming increasingly popular, providing the ultimate challenge of landing large pelagic fish on relatively light tackle.
Romance
Sensual Seychelles, home to the unique Vallée de Mai, claimed by some to be the original site of the Garden of Eden, has long been dubbed the 'islands of love' – a place where romance is as natural as the waves caressing the shores of a secret cove at midnight. It is a place of safety and serenity, where an astonishingly surreal beauty and a languid pace of life conspire with an enviable tropical climate and welcoming people to provide a unique backdrop for those tender romantic experiences. Make a rendezvous with destiny and exchange your wedding vows amid the breathtaking and naturally seductive ambience of the islands of love. Make the ultimate choice in romance, assured in the knowledge that there is no better place on earth to celebrate your commitment to each other. Enjoy all the diversity in accommodation that Seychelles has to offer, from charming Creole guesthouses, intimate hotels both large and small, to the magical experience of sumptuous five star resorts and exquisite island hideaways. Be it a wedding, honeymoon or an anniversary, unforgettable Seychelles holds the key to your dreams of romance in paradise.
Sailing
Since the 9th century, when intrepid Arab seafarers first sailed the then uncharted waters off the east coast of Africa, Seychelles' waters have been visited by a succession of sailors under a host of different flags. Today, Seychelles welcomes a new generation of sailors to its pristine waters to enjoy the myriad treasures that have remained wonderfully intact since the occupants of Arab dhows first wondered at these islands' astonishing beauty. Sparkling and diverse isles set like gemstones in an azure sea and offer year-round sailing. International and local charter companies provide a wide selection of specialized craft, both skippered and bareboat, to offer the sailing experience of a lifetime.
Seychelles Hotels
Le Chateau de Feuilles
Chateau de Feuilles is situated on the magnificent island of Praslin, which is only 15 minutes from its main airport and 5 minutes from the jetty. The furnishings and decor of the rooms are specially inspired by the nature (mainly made of local woods – coconut, takamaka etc). Very spacious and comfortable, exposed in a rich location where a breathtaking view of the ocean and neigbouring islands is guaranteed. Relax and enjoy the moonlight and dazzling stars in a very calm atmosphere on your terrace or preferably in the Jacuzzi. This vast equatorial 5 hectares estate, with only 9 deluxe apartments with an outstanding view over the deep blue ocean, invites you to a holiday of your dream.
Le Duc de Praslin
Ideally situated next to the famous Cote d'Or Beach with its crystal clear waters and set in a beautiful tropical and orchid garden, Le Duc de Praslin is the perfect hotel for a relaxing sun and sea holiday. Features 18 rooms including 7 deluxe standards, 6 superiors, 2 new junior suites, 2 large suites and 1 new family suite apartment of 2 rooms at. Exquisite suites exceed all expectations with bedrooms tastefully decorated in local timber.
Maia Luxury Resort & Spa
Maia is more than a sanctuary, more than an escape and much, much more than a hotel. It is a place of physical, mental and spiritual awakening, a place of rediscovery. The symbol of Maia is the lotus blossom, which unfolds to reveal each of its petals in turn. At Maia, you arrive as the bud of a lotus flower. During your stay, all the layers of your senses expand, grow and blossom in the warmth and light of the Maia experience. At the heart of the flower – and at the heart of Maia – you find perfect relaxation, awareness and intuition. It won't take long for you to appreciate that Maia is more than a sanctuary and more than a hotel. Indeed, it is sheer pleasure within an oasis of private calm.
Coral Strand Hotel
About 3km finest coral sand, surrounded by tropical palm trees and the warm Indian Ocean – the Beau Vallon Beach is the most beautiful Beach on the main island Mahé. The Coral Strand Hotel is situated directly on the beach of this "dream-come-true" location. The hotel is a popular starting point for excursions and interesting walks and also offers a wide range of sports and leisure activities. The hotel is an international meeting point and the cultural centre of Mahé for visitors from all over the world.
0