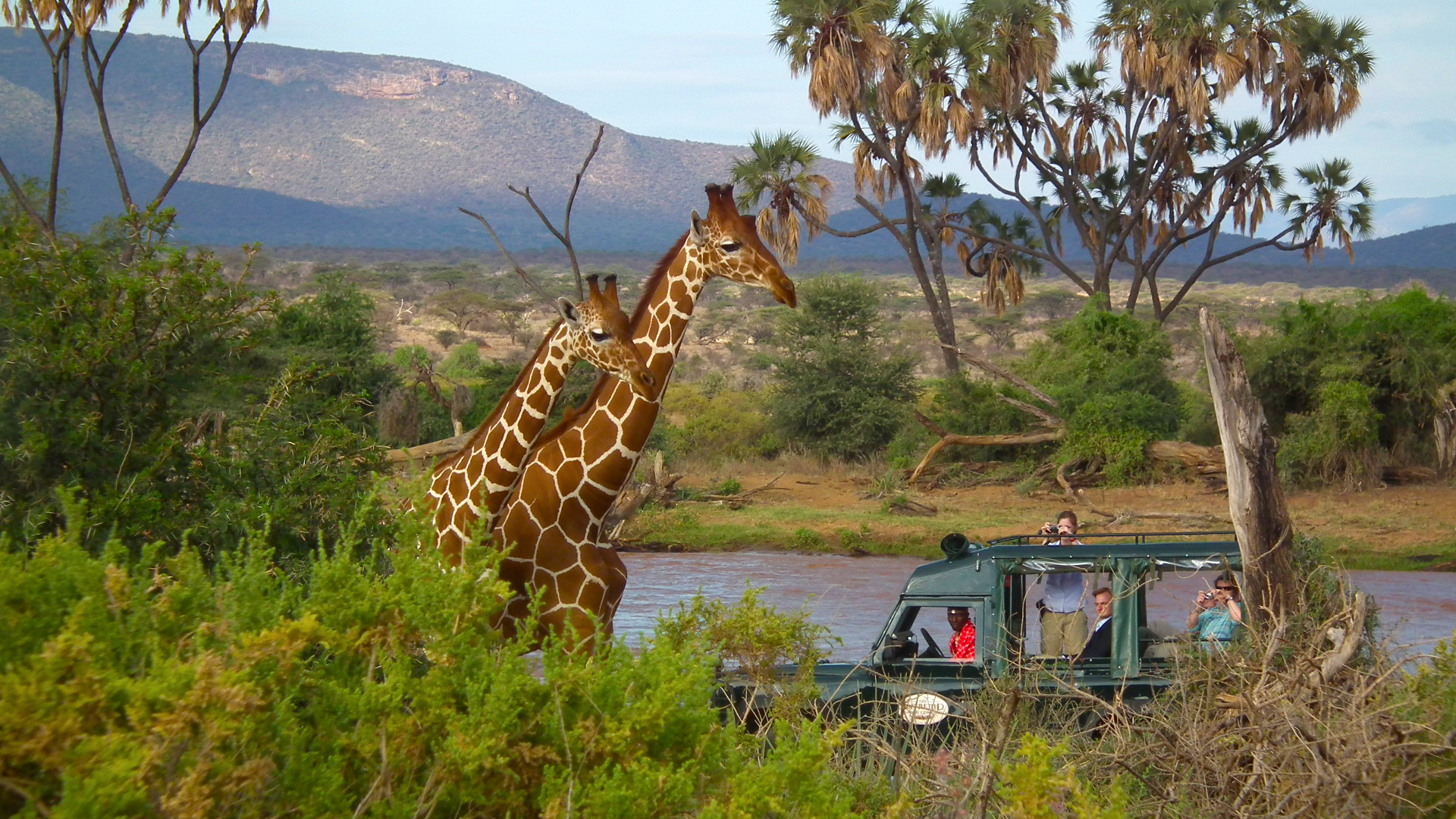 Samburu National Reserve Samburu National Reserve is a journey of about 220 miles north of Nairobi in Kenya's arid, northern scrub lands. This tiny park is only 64 square miles but in its boundaries is the best game viewing the North Country has to offer. The reserve boasts the most unusual fauna of all East Africa's major savannah reserves.
The environment is enchanting. The river Uaso Nyiro is the lifeline and the nerve center of this Reserve and is bustling with a huge population of crocodiles. There is the densely striped Grevy's zebra, the reticulated giraffe, the regal Beisa oryx and a comically long-horned race of the Grant's gazelle.
The most unique of them all is the Gerenuk or antelope giraffe, distinguished by its extraordinarily distended neck and freakishly small head. It also possesses a unique manner of feeding; standing near erect on its hind legs to stretch two metres above the ground and nibble on the leaves that other browsers can't reach.
Less crowded than the Mara or Ngorongoro, this reserve is offers accommodation in excellent upmarket lodges situated along the riparian forest fringing the Ewaso Nyiro River – an incongruously luxuriant ribbon through the surrounding dry scrub. A unique activity on offer at Samburu is the camel back safaris.
Shaba National Reserve
Just east of Samburu the Shaba National Park is very pretty and under visited. The reserve consists of a low-lying, semi arid plain on the southern bank of the Northern Ewaso Ngiro river. It lies 9 km east of buffalo springs national reserve, from which it is separated by the main road from isiolo to marsabit.
The climate is hot and dry. Shaba Game Reserve was made famous by the late Joy Adamson and her lioness Elsa which is often referred to as the Born free country.
The starkly beautiful landscape is dominated by Shaba hill to the south, at the foot of which is a rugged area with steep ravines. The sandy soils are volcanic in origin. Shaba has 17 springs at which animals congregate during the dry season such as the Reticulated giraffe, Somalia ostrich, Grevy's zebra.
Its Northern section includes a 34km stretch of the Ewaso Ngiro river; here and elsewhere in the reserve are numerous springs and swampy areas, although some have bitter tasting water
0